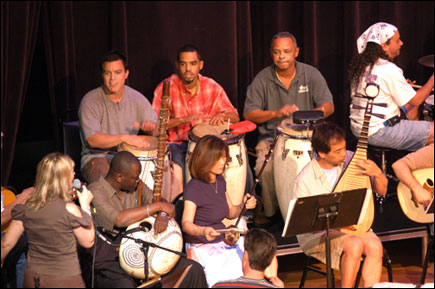 The Chicago Immigrant Orchestra
Having spent a lifetime delving deep into the world's musical traditions, perhaps Willy Schwarz's most ambitious, innovative and interactive undertaking to date is the formation of the Immigrant Orchestra. Originally conceived as a feature presentation of the first Chicago World Music Festival in September, 1999, Willy used his knowledge of many music styles as well as his contacts with players and singers from various ethnic communities to assemble an ensemble which would not only feature each artist, but also allow musical dialogue between the many musical traditions. The performance was enthusiastically received, topping the Chicago Tribune's list of the year's ten best concerts.
Actually a swansong to Chicago, which he would leave for Bremen, Germany a month later, Willy gathered Chicago musicians from Puerto Rico, Brazil, Poland; Senegal, Hungary, Greece, Lebanon, India, China, Quebec, as well as African-America for the premiere performance. In July, 2004, Willy was invited back to Chicago to again lead the Immigrant Orchestra,expanded from the original 18 to 22 players (including new members representing Irish, Palestinian, Macedonian, Mexican and Tunisian styles) in a dedicatory concert at the just-opened Millenium Park. With only a few weeks preparation time, Willy and the other musicians created a concert whose depth and breadth exceeded even the legendary '99 show, joined for an impressive finale by the 60-voice Chicago Childrens' Choir. Again the Tribune raved,(see below) as did the audience of 10,000 amazed listeners, rising to a thunderous standing ovation. The event proved so successful that yet another booking was arranged in September as the kickoff concert for the 5th Chicago World Music Festival, this time featured coast-to-coast on PRI's 'The World'.
For a clip of the finale click here
Once established in Germany, he set about proving that the concept of musicians speaking each others' language could be transplanted anywhere by forming a similar ensemble – Das Bremer Stadtimmigranten Orchester - in Bremen, famous for it's "Town Musicians". This time the musicians hailed from Chile, Iran, Kurdistan, China, Ghana, Romania, Ukraine, France, and Turkey and was, again, received with accolades and an invitation to mount another presentation in Bremen's premiere concert hall on April 22, 2005

After its highly successful premiere concert, 'Das Bremer Stadtimmigranten Orchester' became affiliated with the renowned World Music label JaroMedien GmbH, coincidentally also based in Bremen, who not only sent them off to perform around Germany, but into the recording studio as well. The first CD, entitled 'Home Away from Home' is a brilliant and moving musical portrait of the group, as well as a souvenir of Bremen's rich ethnic diversity. A limited book/CD edition was released in November 2005, with a subsequent normal jewelbox edition in 2006.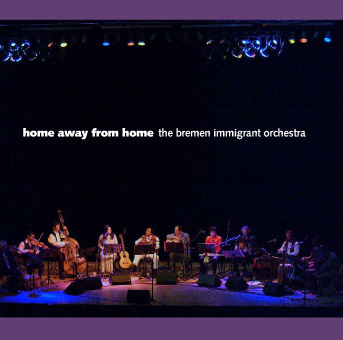 Diverse ensemble tests new pavilion
Immigrant Orchestra shines as it offers insights into Pritzker's acoustics
By Howard Reich
Tribune arts critic
Pushing well beyond the confines of the Western classical tradition, the Chicago Immigrant Orchestra received a mighty standing ovation Sunday afternoon—and deserved every whit of it.
On purely musical terms, this ensemble essentially stands in a category by itself, its approach to large-group improvisation as radical as it is persuasive. Exactly how bandleader-accordionist Willy Schwarz enables nearly two dozen musicians of far-flung idioms to speak a common musical language remains something of a mystery. South Indian violin, Chinese pipa and Middle Eastern oud—among other stylistically unrelated instruments—do not naturally share tunings and improvisational techniques, yet they cohered exquisitely in Schwarz's revolutionary band.
During a 90-minute set that quickly gathered momentum, Schwarz and his genre-bending band of Chicagoans provided several passages of high inspiration. The great Brazilian singer-guitarist Paulinho Garcia and the rising Polish jazz singer Grazyna Auguscik duetted sublimely, merging the undulating rhythms of South America with the smoldering lyricism of Eastern Europe. Similarly, the husband-wife duo of Betti Xiang and Yang Wei, who respectively play erhu (a kind of Chinese violin) and pipa (which recalls a lute), riffed ingeniously alongside jazz bass, Latin percussion and Polish strings.
But it was all 23 musicians playing en masse—their American, African, European and Asian voices intermingling—that distinguished the Chicago Immigrant Orchestra from ensembles coast to coast.
Long may it swing.